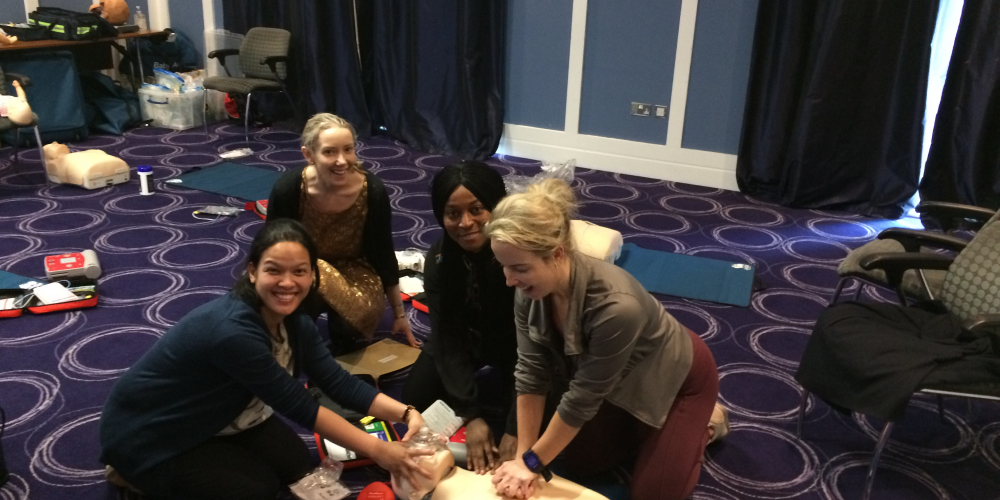 Part 2 AHA BLS/AED course (This a separate booking to the Part 1 course)
€85.00 p/p
2.5 Hours (Approx.)
The course is aimed at ensuring providers promptly recognise cardiac arrest, give high quality chest compressions and deliver appropriate ventilations as well as providing early and safe defibrillation through the use of an Automated External Defibrillator (AED) within both a team setting and on an individual basis as per the latest guidelines. The course also teaches how to recognise and manage a choking victim. The above areas are taught in the context of adult, child and infant rescue techniques.
---
Course Details
According to the Out-Of-Hospital Cardiac Arrests (OHCAs) 2015 annual report (Ireland), 69% of OHCAs occurred in the home, with 50% un-witnessed. Outcome from OHCA remains poor: only 6.7% of patients with non-traumatic cardiac arrest who have received resuscitation emergency medical services (EMS) survive to hospital discharge. BLS is the foundation for saving lives after cardiac arrest.
Fundamental aspects of BLS include: Immediate recognition of sudden cardiac arrest and activation of the emergency response system/resuscitation teams, Early CPR, and rapid defibrillation with an AED.
Data continues to demonstrate that high-quality CPR improves survival from cardiac arrest, including:
Ensuring chest compressions of adequate rate & depth
Allowing full chest recoil between compressions
Minimizing interruptions in chest compressions
Avoiding excessive ventilation
The 2015 Guidelines Update includes an updated recommendation for a simultaneous, planned approach to performance of chest compressions, airway management, rescue breathing, rhythm detection, and shocks (if indicated) by an integrated team of trained rescuers in applicable settings.
When a simultaneous, planned approach to managing an OHC VF arrest, survival can approach 50%. However, survival rates remain low, but there is an opportunity for improvement in many settings through training and preparation.
---
Candidate Criteria
The AHA's BLS Course is designed for healthcare professionals and other personnel who need to know how to perform CPR and other basic cardiovascular life support skills in a wide variety of in-facility and prehospital settings.
Course Format
Guideline lecture
Skill stations
Discussions
Scenarios
Working in teams
Competency-based assessment
Blended learning
Download Course Information